After 3 years, finally Nayaswamis Jyotish and Devi are back in Mumbai. They will be with us from Nov 11 until Nov 17.
Nayaswami Jyotish and Nayaswami Devi are dynamic emissaries of Paramhansa Yogananda and living examples of spiritual values in action. They serve as the Spiritual Directors of Ananda Worldwide.
Over the 50 years of service through Ananda, they've written several books, lectured widely across the globe on numerous topics, counseled many students from different walks of life, started and guided the inception of projects and businesses for supporting Ananda, and helped establish new Ananda communities in the US and Italy. Additionally, they've been instrumental in working personally with individuals to carefully and lovingly nurture many of the current residents, teachers, and leaders at Ananda.
Jyotish and Devi have been married for over 45 years and have one son and three grandchildren. They have authored several books together; Nayaswami Jyotish is also the author of the books 30-Day Essentials in Marriage and 30-Day Essentials in Career.
Nayaswami Jyotish is also a prolific painter, with over 100 works of art to his name.
Register for Free workshop on Relationships
While In Mumbai

Their time in the city will be divided between programs for the public and some specifically for devotees. They will also split their time in the city itself, and then at the ashram on Madh island.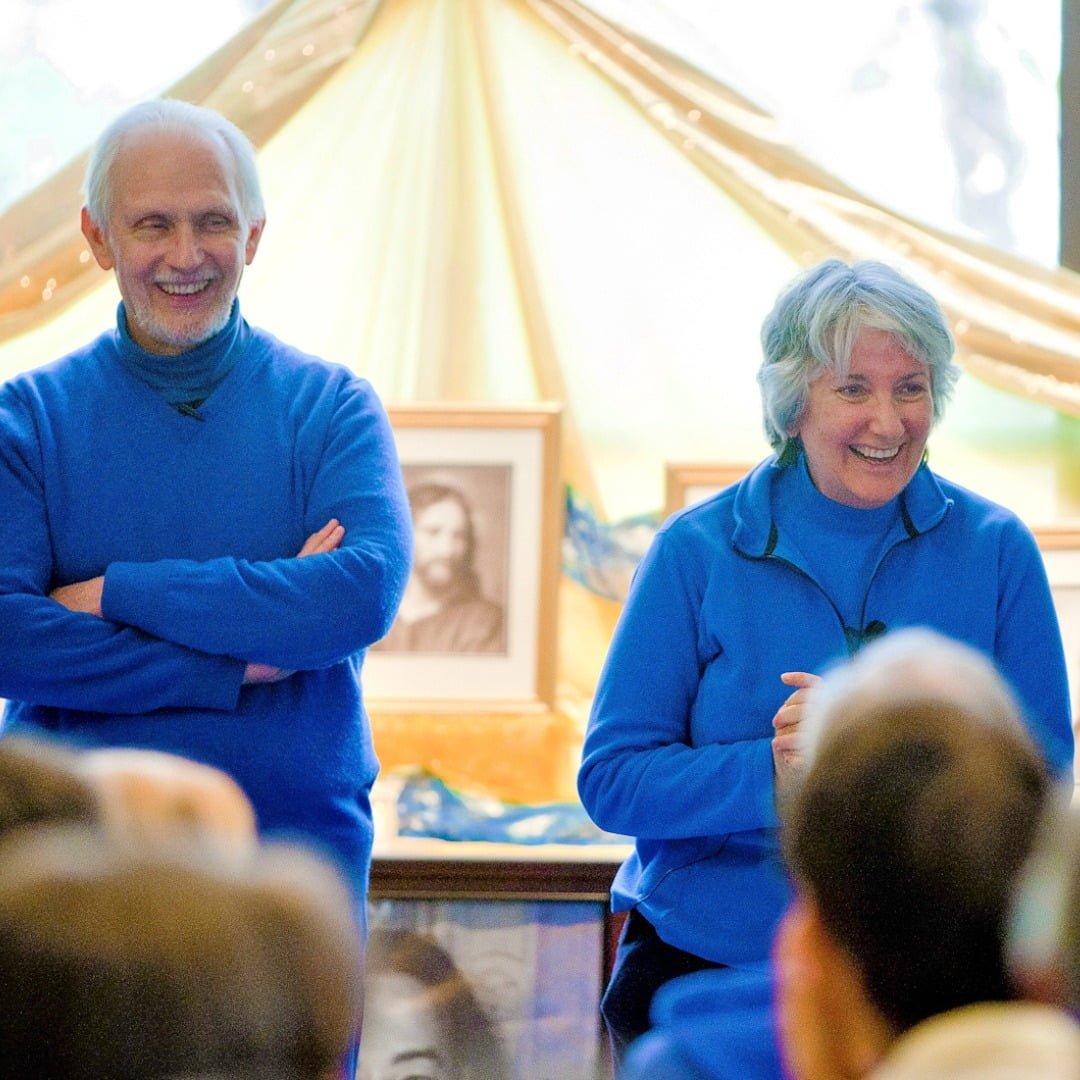 SATSANG
Date: Saturday, November 12
Time: 10:00 AM – 1:00 PM
Venue: Juhu (only for Kriyabans & Disciples)

Informal Satsang including chanting, meditation, question and answers, discussion and lunch.
ART EXHIBITION & BOOK SIGNING
Date: Saturday, November 12
Time: 5:00 – 7:00 PM
Venue: Ananda Cafe, Juhu (Open to All)
Entry Free
Nayaswami Jyotish is a prolific painter and artist with over 100 works to his name. We will have a brief talk on Art, Consciousness and Meditation, as a means of awakening our latent creativity. Many pieces of his art will be on exhibit, some original paintings, and some prints, all of which will be up for sale. Nayaswamis Jyotish and Devi are also authors and have, between themselves, written over 8 books. Those books will also be available to be signed by them. And while all this is going on, you can enjoy a cup of tea or coffee, or something cool and refreshing, and munch on some healthy entrées.
HEALING RELATIONSHIPS : Free Lecture & Workshop
Date: Sunday, November 13
Time: 11:00 AM – 1:00 PM
Venue: B.N. Vaidya Sabhagriha, 2nd Floor, Patkar Guruji Chowk, Hindu Colony, Dadar East (Open to All)
Little in life brings as much happiness as our relationships. Unfortunately, an unhappy relationship can also cause some of life's greatest pain. We, however, have a choice in how to react to events, and we alone have the power to make ourselves happy or sad.
With a marriage spanning over 45 years, and leading a worldwide organization for just as long, Nayaswamis Jyotish and Devi have encountered and supported every kind of relationship, and it's corresponding ups and downs.
Join us for free workshop as we learn from them some of the yogic principles to harmonize or heal interpersonal relationships, whether they are friendships, at work, with children or a romantic relationship.
Being harmonious is an art, and being able to bring that harmony to others is even more so!
Register for Free Workshop
AT THE ASHRAM
Date: Tuesday, Nov 15 – Thursday, Nov 17
Venue: Ananda Ashram, Madh Island
Spend time informally with Nayaswamis Jyotish & Devi, especially for the morning and evening sadhanas, and meals. The pièce de résistance will be the showcase of a special play, written, directed and performed by the ashram residents. Make sure to inform us before hand if you plan to participate in any of the ashram activities during this time.