FREE ONLINE EVENT
Astrology As A Spiritual Guide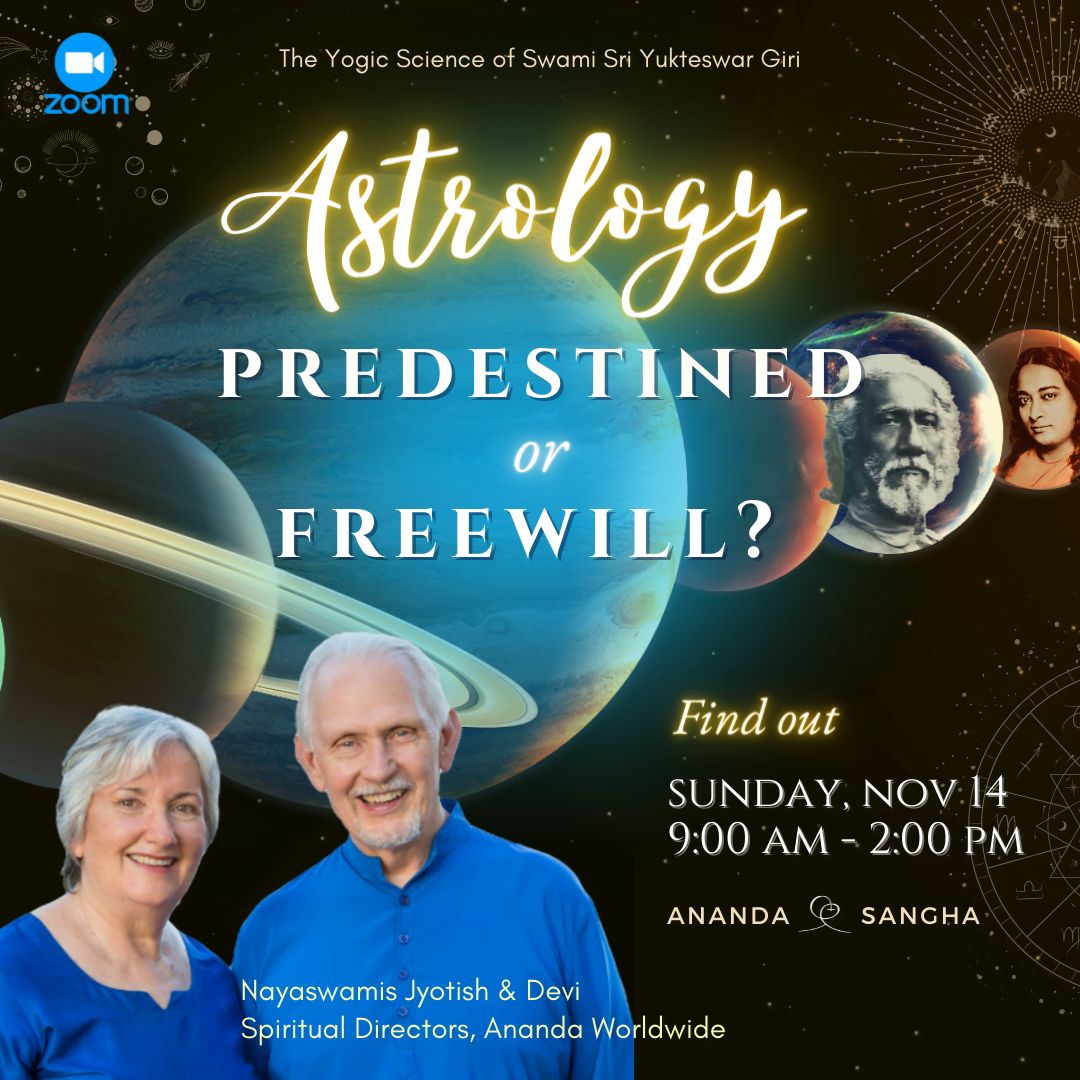 09:00 – 10:00 AM
ASTROLOGY: PREDESTINED OR FREE WILL
Astrology has long been seen as a reading of fixed karmas and events in our lives, and that these planetary influences are binding and final. If that were true, and all aspects of our lives are predestined, then where does free will come in? Is life under our own command, for merely the whims of the celestial planets. Based on the teachings of Swami Sri Yukteswar and Paramhansa Yogananda, join Nayaswamis Jyotish & Devi, as they give the right context to the purpose of Astrology, and to its influence on our lives.
Nayaswamis Jyotish & Devi
Nayaswamis Jyotish and Devi are the Spiritual Co-directors of Ananda Worldwide, and disciples of Paramhansa Yogananda since 1969. They have been personally trained by Swami Kriyananda to guide Ananda's work worldwide and have taught and lectured around the United States, and in Europe, Russia, and India. Nayaswamis Jyotish and Devi are both Kriyacharyas, designated to initiate people into Kriya Yoga. They are both published authors, and have authored 7 books.
10:00 – 12:00 PM
ASTROLOGY, RAJA YOGA AND SPIRITUAL TRANSFORMATION
Swami Sri Yukteswar states in Autobiography of a Yogi, "A child is born on that day and at that hour when the celestial rays are in mathematical harmony with his individual karma." The solar system is actually a reflection of our inner reality, not the other way around. The stars do not create our karma, they merely reflect it and act as catalyzing agents for what we ourselves have already set in motion. By understanding these influences, and how to intelligently work with them, astrology can help deliver into our hands the tools to work constructively with our own nature and individual karma.
Drupada John MacDonald
Drupada is a highly-trained Vedic astrologer who teaches Vedic Sciences: Astrology, Vastu, and Ayurveda as well as Vedic Astrology, Spiritual Psychology, and Transformation. He has been a Kriya Yogi for close to 40 years, and has practiced Vedic Astrology for about 30 years, bringing the intuition gained from meditation to his astrology practice. He has spoken at conferences and offered readings and private consultations throughout the United States, in Europe, India, and Australia. Drupada's approach to astrology centers on the potential he sees in each horoscope for personal growth and for overcoming the specific karmic patterns that are most actively present in this incarnation.
12:15 – 01:45 PM
EXPERIENCING THE PLANETS THROUGH THE CHAKRAS
This session will be experiential in nature, where we will learn to connect directly with the planets, as they correspond to our inner astral anatomy and the chakras. Through a series of guided meditations, visualisations, chanting and exercises, we will experience each planet, and their qualities and characteristics, within ourselves and intuit their particular vibration as it relates to our present life circumstances.
Keshava Betts
Having been born into a family of yogis, Keshava has been immersed in the spiritual wisdom of Paramhansa Yogananda since birth. His fascination with astrology began since before he became a teenager, and he has been studying this ancient science, under the guidance of Drupada MacDonald, since then. Keshava, a Kriya Yogi, is a teacher of meditation, a talented singer and an exquisite musician.
Flow for the Day:
09:00 – 09:10 AM:  Opening Prayer
09:10 – 10:00 AM:   Astrology: Predestined or Free Will
10:00 – 11:30 AM:    Astrology, Raja Yoga & Spiritual Transformation
11:30 – 12:00 PM:    Q&A Interactive Session with Drupada MacDonald
12:00 – 12:15 PM:    Kirtan & Chanting
12:15 – 01:15 PM:     Experiencing The Planets Through The Chakras
01:15 – 01:45 PM:    Q&A Interactive Session with Keshava Betts
01:45 – 02:00 PM:   What's Next & Closing Prayer