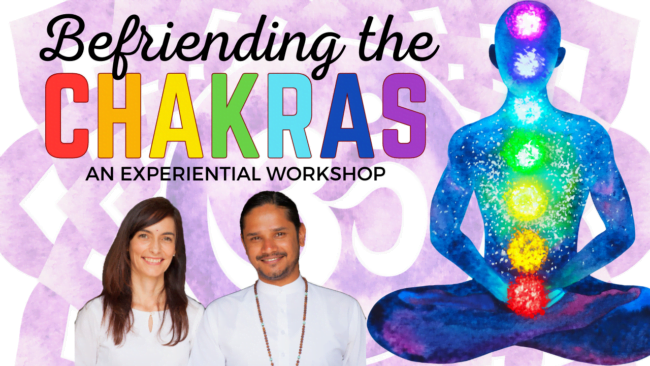 Unleash the untapped power within you by forging an extraordinary bond with your Chakras.
Join us as we embark on an immersive workshop that will revolutionize your relationship with your Chakras. Prepare to delve into the depths of your being and unravel the mysteries of each Chakra, understanding their likes, dislikes, and hidden potentials. It's time to 

befriend

 our Chakras!
Are you ready to establish a relationship that will last you a lifetime?

During this awe-inspiring event, we will guide you through an exploration of the Chakras like never before:

Unveiling the hidden locations and identifying each Chakra's power center
Immerse yourself in profound meditations that awaken the unique qualities of each Chakra
Dive into the elemental essence of each Chakra, igniting your connection to the forces of nature
Immerse yourself in the vibrant colors that resonate with each Chakra, unveiling their true essence
Discover the cosmic influence as we explore the planetary energies associated with each Chakra
Empower yourself through powerful affirmations and visualizations that unleash the full potential of your Chakras
Tyagis Narayani and Shurjo are the Spiritual Directors of Ananda Mumbai since 2018. They are the main Acharyas for Ananda Mumbai. As part of their activities they conduct Classes on the Path of Kriya Yoga, Corporate workshops, Spiritual Counselling, Discipleship ceremony, Satsangs, and much more
They bring with them vast experience in living the teachings for more than a decade. They have lived with and served Swami Kriyananda very closely during final years of Swamiji's earthly life.
They have extensively travelled across USA, Europe and India as part of sharing the teachings around the world4.
Testimonials From the Heart
Thank you so much Narayani and Shurjo for the deep understanding of the chakras and the specific ways to mediate on each chakras🙏🏻Thank you once again for all the insight 🙏🏻
Thank you Narayani and Shurjo for a masterclass on Chakras! The practice has made me more centred than before. 🙏
Thank you Narayani and Shurjo ❤️🙏🏼 this exercise was a fun challenge! I will keep all the chants and visualisations saved for use whenever I feel the need to 😊💫
All I am say In few words that it was divine and I felt inwardly 🙏🙏 thank you so much Shurjo and Narayani for getting us closer to our chakras and understanding them better ❤️
Thanks a lot Narayani and Shurjo👍 listening to you both in live was a blissful experience…repeating the mantra and chanting gives us a divine feeling...🙏🏻 Thank you so much for giving us such valuable info about Chakkras.🙏🏻 I will definitely keep practicing the Chakkras.... Hopefully we will have some more workshops like this...🙏🏻🙏🏻
This workshop was so much beyond what I expected. Heartfelt thanks to Narayani and Shurjo 🙏🏽. I will certainly carry this awareness with me going forward and use these practices to more consciously befriend my chakras ❤️